A MODERN ESTATE ROOTED IN ANTIQUITY
Established in 2015 by Englishman Tom Hills, Domaine La Lauzeta presides over long-established vineyards in the foothills of the Espinouse and Caroux mountains and runs a small winery in the village of Saint-Nazaire-de-Ladarez.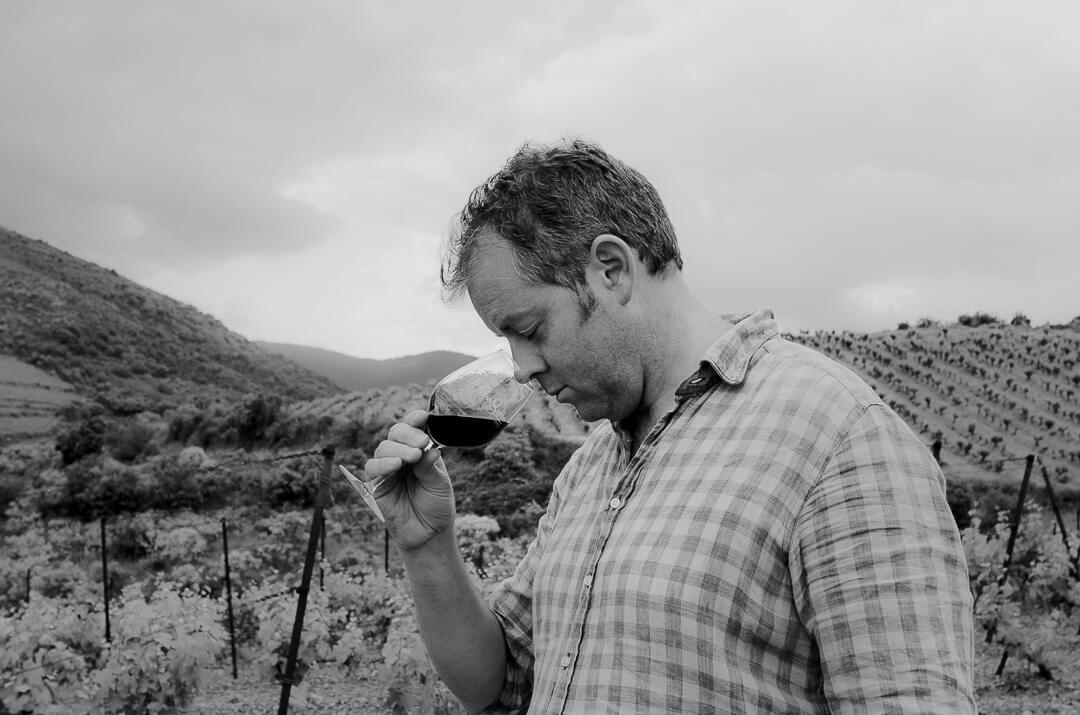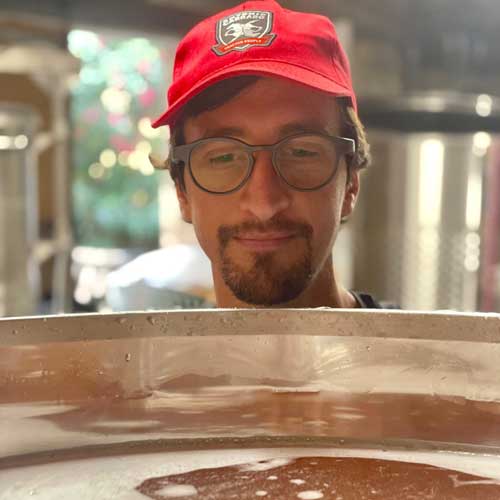 Founded by Englishman Tom Hills, the estate is overseen by Florian Bruneau, a young Norman, who is passionate about sustainability, organics, biodynamics and low intervention winemaking and as well as being a very talented winemaker. He has worked all around the world in his short but impressive career to date – including Bordeaux, Burgundy, Champagne, Corsica, Barossa Valley and Napa Valley. He is supported by oenologist Claude Gros.
The name La Lauzeta comes from the Occitan word for skylark, a petite bird with a proud crest and a beautiful song. The skylark also featured heavily in the poems of Bernart de Ventadorn, a medieval troubadour who once roamed the region performing epic cansos – songs of noble and chivalrous love.
Rising up from the plains towards the mountains of the Parc Naturel Regional du Haut-Languedoc to the north, the vineyards are surrounded by increasingly verdant scrubland covered by chestnut, hazelnut and cherry trees and green oaks.
The garrigue, as it known, gives the area its complex nose – a wonderful combination of mimosa, almond and peach blossom, blackberries and wild roses along with the herbal aromas of fennel, rosemary, juniper, lavender and thyme. It truly is a feast for the senses, alive with rummaging wild boar and soaring birds of prey.
Standing amongst the vines, the view stretches from Mont St Clair at Sete to the East, along the salt marshes and beaches of the Mediterranean coast, round as far as the snow-capped peak of Canigou in the Pyrenees, with the Caroux mountains to the north always as the backdrop.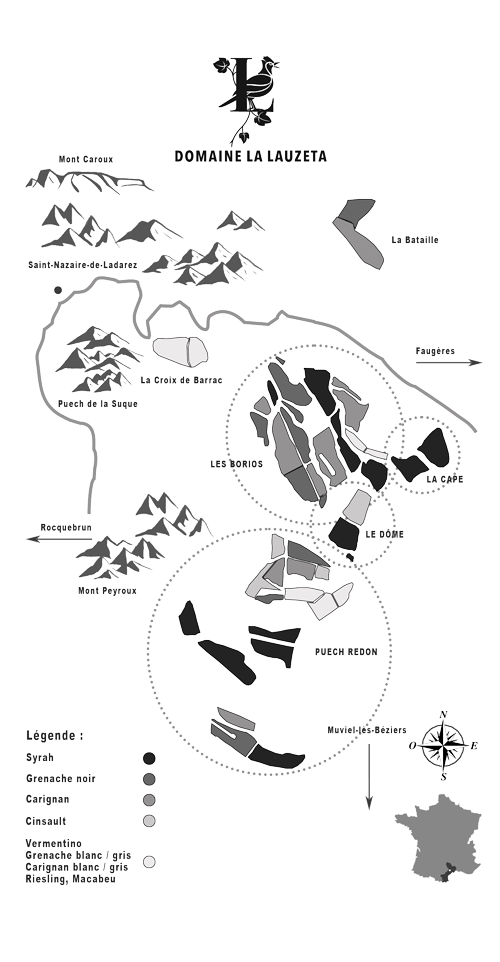 Vines have been cultivated in the region since Roman times, notably with the development of the Via Dolomita linking Gaul with Hispanica, a tradition built on by Benedictine monks around Saint-Chinian through the middle ages. The hills surrounding the estate are covered with ancient, overgrown stone terraces bearing witness to this long history of viticulture.
The beautiful, gnarled old vines of Domaine La Lauzeta spread across 23 hectares of schist slopes at 200–300 metres above sea level, with yields naturally low due to the inhospitable nature of the soil.
Varieties: Syrah, Grenache, Carignan, Cinsault Vine age: 20–80 years Planting density: 3,400–5,000 plants per hectare.
We believe in gently nurturing the vines and the land for the long-term. That, together with a meticulous and uncompromising approach to the work in the vineyard and minimising interventions in the winery, enables us to create distinctive wines evocative of the remarkable beauty and character of this terroir.